Northfield Promise launches new website
November 3, 2017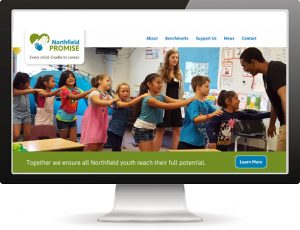 Website emphasizes 10 benchmarks and calls for community to be involved in lives of youth
With assistance from Neuger Communications, Northfield Promise launched a new website this fall that allows community members to further explore the initiative's 10 benchmarks and more clearly identify ways to get involved.
The cradle-to-career continuum now allows community members to examine progress on the Northfield Promise benchmarks, as well as compare results based on gender, socioeconomic status, and race/ethnicity.
The website also features a clearer outlining of Northfield Promise's organizational structure and leadership. Northfield Promise is comprised of several bodies, each contributing unique support to Northfield youth. One component, Action Teams, focus on creating initiatives and plans that tackle one or two benchmarks per team. The four current teams are composed of individuals and institutions that are interested in the focus area of the team. In total, more than 100 individuals from the community serve on the Action Teams.
The website displays multiple ways for community members to support the initiative, such as donating funds, making promises to youth, and volunteering. Many profiled engagement opportunities serve other organizations in Northfield, reinforcing the importance of a collective, aligned community.