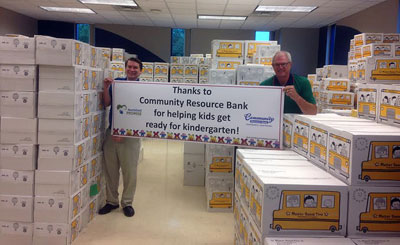 Mother Goose Time Pilot with Home Daycare Providers
November 3, 2017
Nearly 150 young Northfield children benefitting from public-private partnership
Through a series of intentional, one-on-one conversations with Northfield's in-home childcare providers, the Northfield Promise Ready for Kindergarten Team identified an opportunity to support providers – and some of our community's youngest learners – in early learning.
During these conversations, providers identified an interest in offering additional curriculum and programming in their home daycare settings, but expressed concern about the cost of programs and the amount of preparation work required.
Northfield Promise researched potential best-practice programs and, in continued conversations with the providers, reached consensus about the desire to explore the Mother Goose Time Early Learning Curriculum. Conversations with the CEO of Mother Goose Time resulted in an exciting pilot, with the Mother Goose Time curriculum being made available to local home daycare providers at an extremely discounted rate.
Monthly curriculum kits are given to participating providers September 2017 through August 2018. These kits support skill-based learning through play and provide up to three hours of intended activity per day. Daily activities focus on a variety of early learning skills such as emergent writing, science, music, counting and art expression. These interactive activities support the Northfield Promise benchmark of all Northfield youth being ready for kindergarten.
Through this partnership, 23 local in-home childcare providers are now participating in the Mother Goose Time Early Learning Curriculum project, with 142 Northfield youth being impacted. After recently using the curriculum for the first month, a provider said, "I love it. There are so many ways the kids can use their imagination. My kids love doing Mother Goose Time each day!"'
"We are so excited to have such a large percentage of the local providers choosing to take part," said Ashley Anderson, staff for the Northfield Promise Ready for Kindergarten action team. "Furthermore, we are extremely grateful to Mother Goose Time for their willingness to partner on this innovative pilot."
Through the generosity of Mother Goose Time, the pilot was able to extend to two other StriveTogether communities – Austin Aspires in Austin, Minnesota, and Partner for Student Success in St. Cloud, Minnesota. Austin Aspires, Partners for Student Success and Northfield Promise are three of the six communities in the Educational Partnerships Coalition (EPC).
Pre-participation data was collected at the start of the project, with post-data to be collected next summer. If the project is successful, partners are optimistic of extending the pilot to multiple years.