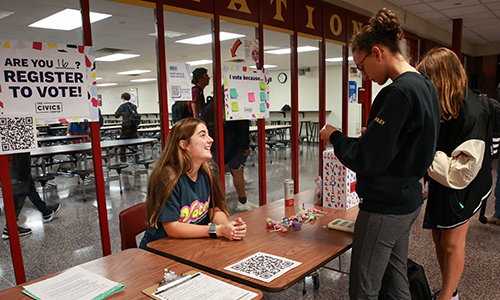 Registration Drive Taps Youth Interest in Voting
November 2, 2023
"Hey, you're 16 right? Come register to vote!" hollered Mayor's Youth Council (MYC) member Danica Sorem. 
Clad in a "VOTE!" shirt, Sorem called out to fellow Northfield High School students during a lunch flex period in early October. Positioned just outside the upper cafeteria at a long table filled with voter registration QR codes, registration forms, and voter stickers, she answered questions and provided assistance to anyone passing by who was interested in voting in their first election. The efforts by Sorem and other MYC members paid off: together, during the three-day October push, they registered more than 120 students!
Earlier this year, the State of Minnesota passed legislation allowing 16- and 17-year-olds to pre-register to vote. Across the United States, 4 million young people can't vote because they don't register on time. This is less of a problem in Minnesota, where same-day registration exists, but the MYC members said they prefer to get Northfield students registered early so they don't feel intimidated to register on the day of an election. 
Students must be at least 16 to pre-register, and they must be at least 18 years old on or before the day of the election in which they intend to vote. The 5-minute process is easy and can be done online here.
The Mayor's Youth Council is just one of many boards and commissions where Northfield students have a voice and a seat at the table. This year, Northfield Youth on Boards has matched 100 students to serve on City Boards and Commissions and local nonprofits, a 25% increase from 2022. 
Martha Lundin, Youth Engagement Coordinator for Healthy Community Initiative, said, "The students in Northfield are so smart. Young people in Northfield are so committed to this work. Their perseverance and dedication to engaging adults and youth together in improving Northfield as a community where young people thrive is inspirational, admirable, and exciting. It makes me giddy."
Currently, students are helping to draft new strategic plans for several city boards and commissions. These strategic plans will cover the next 10 to 20 years, ensuring that youth voice and input will help guide the City of Northfield's priorities for the next couple of decades.
To learn more about the Youth on Boards program, click here.