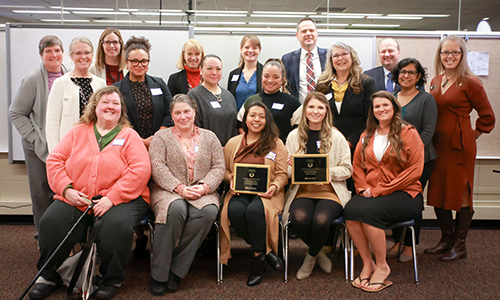 Growing Up Healthy Receives State Excellence Award
November 2, 2023
The Minnesota Department of Human Services (DHS) honored Growing Up Healthy in October for its innovative, collaborative work in improving early education and childcare access for children and families in Northfield and Faribault, particularly children of color.
Growing Up Healthy and Austin Aspires received the 2023 Commissioners Circle of Excellence Award for their "Tri-City Connections" partnership. This was the result of a shared Early Childhood Hub grant from DHS that supported the early childhood navigator work of Growing Up Healthy (a flagship program of Northfield Promise in Northfield and Faribault Cradle2Career in Faribault) and of Austin Aspires in Austin.
The three communities worked collaboratively to improve early education and childcare access for children and families, particularly for low-income children of color. In each community, bilingual early childhood navigators led outreach to pregnant people and families with young children; staffed resource hubs and neighborhood events intended to improve families' access to resources and social connections; and provided feedback to organization partners about systems-level changes needed to improve services for local children and families.
During the Oct. 17 award ceremony in Northfield, DHS Commissioner Jodi Harpstead said that the close partnership of Growing Up Healthy and Austin Aspires and their work with other community organizations "shows the power of cross-sector collaboration and a whole family approach–that we can achieve more and make families even stronger by working together rather than on our own. You are fabulously ahead of the curve, and I can't wait to watch how you keep building on the strong foundation you have set."
The event was held in the Growing Up Healthy office at the Northfield Community Education Center. Growing Up Healthy Director Jennyffer Barrientos and Austin Aspires Executive Director Jayne Gibson accepted the award on behalf of their organizations. Officials in attendance included DHS assistant commissioner for Children and Family Services Tikki Brown, Northfield Mayor Rhonda Pownell, City Administrator Ben Martig, Northfield Superintendent Matt Hillmann, Northfield School Board Chair Claudia Gonzalez-George, Northfield Community Education Director Erin Bailey, state Rep. Patricia Mueller of Austin, and HCI Executive Director Sandy Malecha.
The annual human services award honors outstanding initiatives and innovations that address critical needs in Minnesota's communities and help strengthen equity in the human services system. This year, the award was given to 10 different organizations representing seven initiatives throughout the state. Read more about each of the winners here.