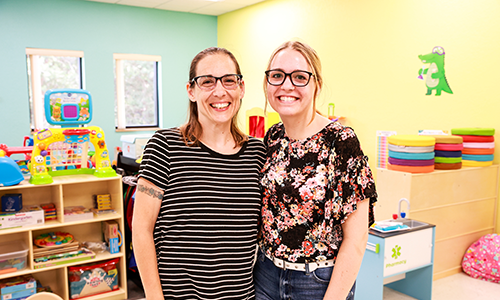 Northfield Childcare Partnership Expands Choices for Families
August 21, 2023
Two new childcare centers opened in Northfield this month under an unusual business model: instead of being located in a person's home or in a standalone daycare facility, both private businesses are housed in the city-owned Northfield Community Resource Center, located at 1651 Jefferson Parkway.
Little Stinkers and Thinkers Child Care LLC is operated by the mother-daughter team of Candi and Paiton Ahlman and is open Monday through Friday from 7 a.m. to 5 p.m. Maddi's Makoons is operated by Maddison Qual and is open Monday through Friday from 7:30 a.m. to 5 p.m. Both are a result of a unique partnership between Three Rivers Community Action, the Southern Minnesota Initiative Foundation (SMIF) and Healthy Community Initiative (HCI). 
Candi Ahlman is a registered nurse, and her daughter is a certified nurse assistant. They plan to offer a preschool curriculum and hope to collaborate on intergenerational activities with FiftyNorth, which is located in another wing of the building.
"I'm very excited to get some kids in here. I'm looking forward to getting to know them and teach them," Paiton Ahlman said.
Qual moved to the Northfield area from northern Minnesota, where she operated the White Earth Boys and Girls Club. She comes from a family of educators and plans to operate a Montessori-style program.
"It's very important to me to help kids grow and develop from an early age," she said.
The idea for the childcare partnership came about in early 2022, when classroom space became available in the Head Start wing of the building. Jane Adams Barber, Three Rivers' Early Childhood Director, and Executive Director Jenny Larson began discussing the possibility of providing the space to individual childcare business owners and subsidizing their rent as a way of addressing the shortage of high-quality childcare options in Rice County.
Barber got the idea from a community action agency in northern Minnesota where a Head Start partnership grant allows them to partner with private family childcare providers that are all located within the same building. This "pod model" child care is allowed by the state but is not common.
"We thought it would be a great option for people who wanted to own their own business but didn't have the resources to do it," she said.
Barber said some people would like to operate a home-based childcare business but aren't allowed to do so because they live in condos or apartments that prohibit it. Others would prefer not to have a business in their home and can't afford to start their own private facility.
The Southern Minnesota Initiative Foundation (SMIF) was brought in as a key partner to the project and contributed $50,000 to pay for high-quality equipment, technology and rent. Because a lack of business training is also a common barrier to starting a childcare business, Jeff Andrews, SMIF's Early Childhood Business Consultant, worked with the childcare providers who were chosen for the project. Andrews said he helped the Ahlmans and Qual review all aspects of running a small business, including budgeting, advertising, and setting sustainable rates for their services.
 "These folks are just as much small business owners as others on Main Street," he said. "We want to make sure that they are successful and are not subsidizing the cost of care at the expense of their own dreams and goals."
Andrews said the Rice County licensing staff also played an important role in preparing the providers to open their businesses.
"We got them to the starting line, and it was a cooperative effort, with contributions by all those groups to make sure they are wrapped around with good support and services," he said. 
Contact information:
Little Stinkers and Thinkers, LLC
Candice and Paiton Ahlman
507-363-0820
littlestinkersandthinkers@gmail.com
View more photos of Little Stinkers and Thinkers here.
Maddi's Makoons
Maddison Qual
218-261-0419
qualmaddison@gmail.com
View more photos of Maddi's Makoons here.