TORCH Shares Highlights from 2022-23
June 5, 2023
TORCH staff assisted more than 400 middle school and high school students during the 2022-23 school year, and the program's graduating seniors received more than $18,000 in local scholarships to pursue postsecondary education. Northfield High School TORCH Director Tessa Kiesow shared those and other highlights with the Northfield Shares board at its May meeting at the Northfield Depot.
TORCH received a grant from Northfield Shares to support its Career and College Readiness and Exploration programming. In her presentation to the nonprofit community foundation, Kiesow explained that those funds helped pay for transporting middle and high school students to college visits and career exploration events. They also supported lunchtime workshops for students to learn more about topics like financial aid, applying for scholarships, and PSEO (Postsecondary Enrollment Options).
Kiesow said after the presentation that the board members were excited to hear that TORCH serves so many students each year – in addition to those served at the middle school and high school level, the program supports more than 100 TORCH alumni through the Northfield Community College Collaborative.
"They were curious to learn more about how TORCH is funded – a combination of local, state and national funds that we braid together – and also seemed excited to learn about our many partnerships, such as Northfield Public Schools, HealthFinders Collaborative, the Community Action Center, Riverland Community College, and the Minnesota Office of Higher Education, to name a few," Kiesow said. 
TORCH, or Tackling Obstacles & Raising College Hopes, supports and empowers students in grades 6-12 in graduating from high school and pursuing future goals, with an intentional focus on partnering with Northfield's students of color, youth from low-income families, and potential first-generation college attendees.
TORCH's bilingual staff provide students with academic advising and social-emotional support, and they connect youth and their families with resources and opportunities. This relationship building starts in sixth grade and helps students stay in school and overcome challenges. At the high school level, students also receive help with PSEO classes, driver's education scholarships, and in-house permit testing.
Kiesow explained to the board that students from lower income families are only half as likely as more affluent peers to be taken to museums, theaters, libraries, vacations, and other fun or cultural outings. With generous support from Free Tickets for Kids, YouthBank, WINGS, and Rice County Area United Way, TORCH has been able to fill some of those gaps.
TORCH also supports students over the summer, through credit recovery, community building and career exploration, summer camps, and the free Summer Scholars program, for TORCH students entering grades 6-9.
For more information about TORCH, or to volunteer or donate, visit northfieldtorch.org.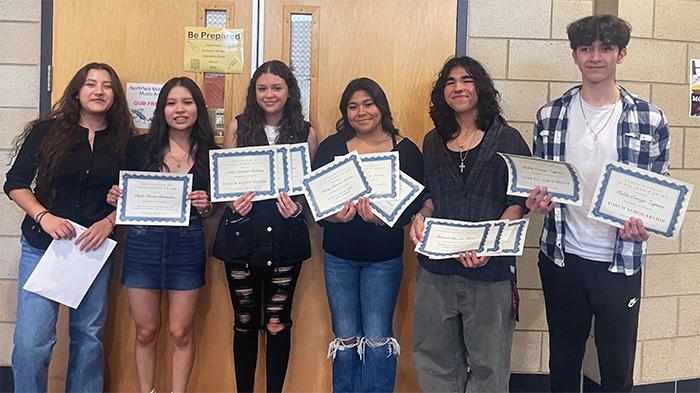 Thanks to generous donors and local organizations, TORCH graduating seniors received more than $18,000 in scholarships, reducing their need to take out student loans for postsecondary education and providing extra money to pay for textbooks or laptops.