A new indoor, playful learning space is coming to Northfield!
June 5, 2023
In the former Greenvale Park Elementary School media center where students used to sit and read The Magic Tree House books, a giant treehouse now stands. The treehouse is part of an interactive, fully accessible play space that was designed by the Minnesota Children's Museum for the building's new tenant, the Northfield Community Education Center (NCEC).
When completed, this rejuvenated space in the center of the old school will feature a colorful mural and five unique play installations where kids can earn through play in child-led, whole body experiences. The first four installations, Perch, Float, Shimmer and Construct, are already in place. The final one, Nest, is expected to be ready by fall 2023. 
"Play may seem simple, yet it is profound to a child's development," said Community Education Director Erin Bailey. "Through play, children learn the skills they need to thrive now and throughout their lives. In partnership with the Minnesota Children's Museum, we are excited to bring this creative space to life for young children to enjoy."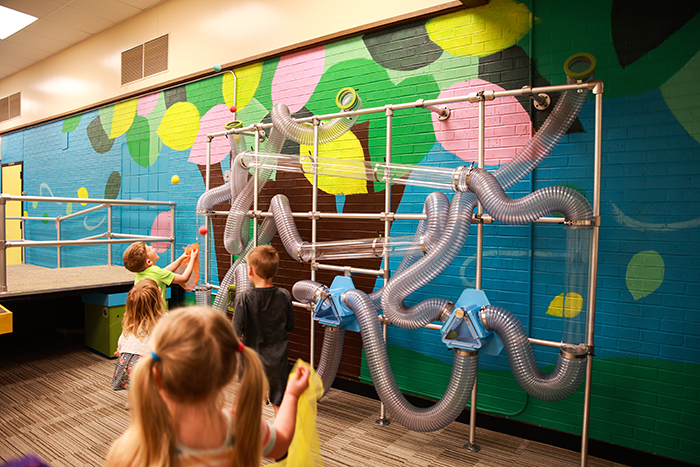 NCEC staff got the idea for the new play space three years ago, before the start of the COVID pandemic, when they began planning how they would renovate the former elementary school into a multi-use space that would house Hand in Hand preschool, Early Childhood Family Education (ECFE) programs, the EarlyVentures childcare center, and Community Education offices. When the planning committee met with community members to get their ideas about how to best use the former media center, people mentioned the need for a new indoor play space, similar to installations found at the Minnesota Children's Museum in St. Paul.
In March 2020, five days before lockdown, the planning group met with museum staff to begin talks to design the space. Over the next three years, progress was delayed by the pandemic, staffing changes, and supply chain issues, but by fall, the space will be finished and ready for families to enjoy. 
Funding for the indoor experiential environment was provided by WINGS and Northfield Promise, through the StriveTogether Opportunity Fund.
The space is geared toward children ages birth to 5 years and is currently open to classes held in the NCEC. Organizers are planning to have drop-in days for the general public. More information will be included in the Community Ed fall catalog and online.

For more information about signing up for ECFE classes, Hand in Hand preschool, or EarlyVentures, a birth-to-5 childcare center, visit the Community Ed website.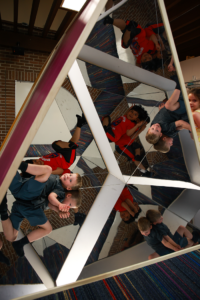 The NCEC play space consists of five installations:
Perch

features a fully-accessible giant treehouse with fabric panels, a "hidey hole," and a climbing area

Float

features a wall filled with intertwining, clear pipes that students can infuse with feathers, scarves, and foam balls and redirect the airflow to change their path. The objects then pop out of the top of the pipes, and children can jump and catch them.

Shimmer

features a preschool-sized triangle "fun house" style mirror. Children walk through and enjoy the different perspectives the mirror provides. There is a small light table in the Shimmer installation for children to practice writing and drawing and see their creations glow.

Construct

allows kids to build unique structures using pool noodles and connectors to form towers with a noodle tree.

Nest will feature a giant nest with a forest theme.