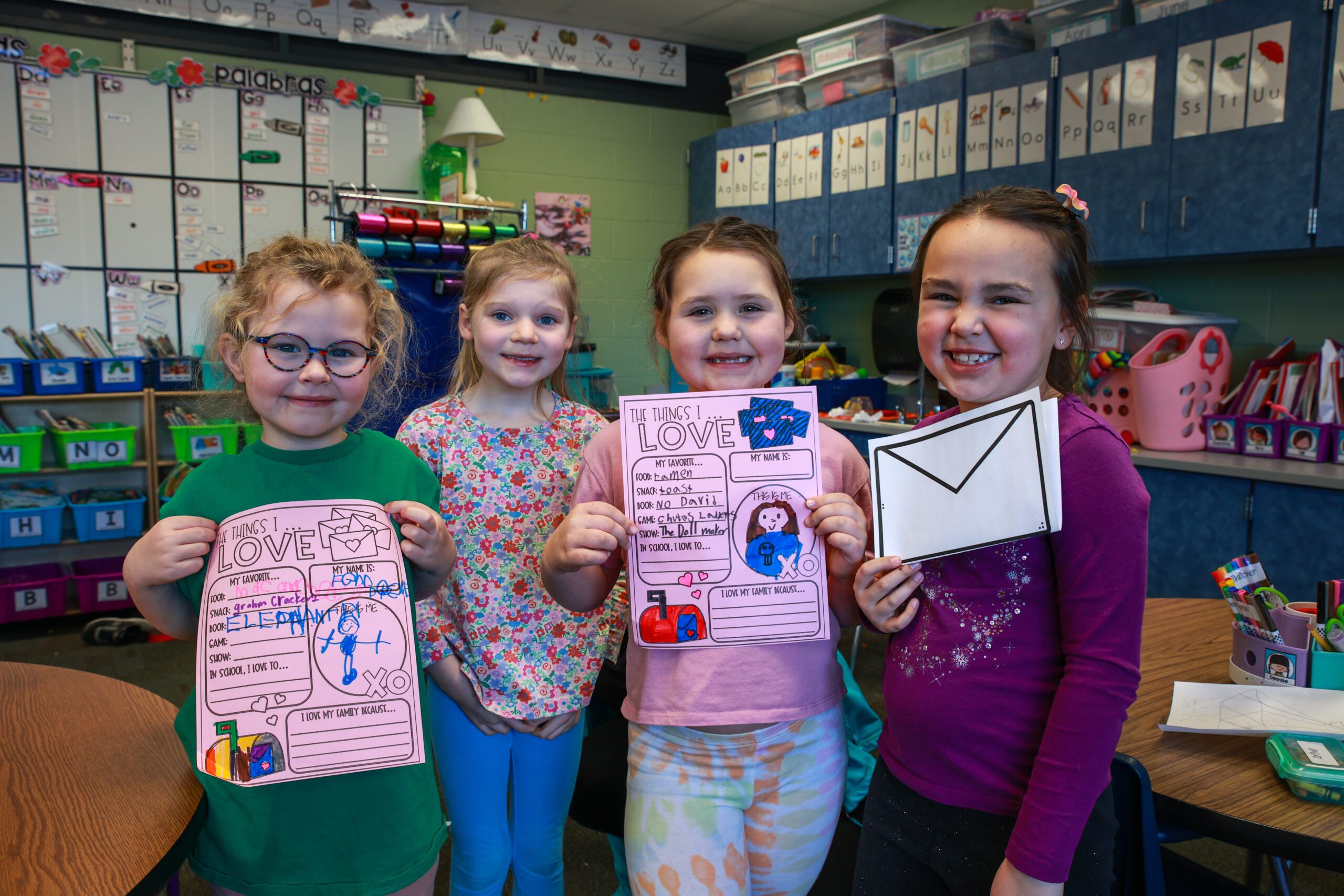 New Club Hones Old-Fashioned Skills
March 2, 2023
In an increasingly digital world where electronic communication is the default for today's elementary students, kids at the Bridgewater and Spring Creek Elementary Schools are learning how to connect the old-fashioned way — by writing letters in a pen pal club. 
Erin Hall, a first-grade teacher and Community School volunteer at Bridgewater, came up with the idea and reached out to her counterpart at Spring Creek, first-grade teacher Mairin Born. 
"Kids don't get mail like we did when we were kids, so part of the fun of this club is teaching what a letter looks like — the stamp spot, the sender spot," Born said. "I also think that mail is kind of magic when you're a kid. Some kids haven't received mail before, and it's a fun way to get them engaged in writing that seems fun and not like a job."
The Pen Pal Club promotes literacy in a fun package, giving students the opportunity to practice using headings, forming good sentence structure, as well as the important tasks of editing and revising. Students are encouraged to write "happy letters" to help form new friendships with students from other schools whom they may not have met. Community School students also send delightful prizes with their letters, such as origami frogs for Valentine's Day that said, "Hop-ping you're having a great Valentine's Day!"
Hall said, "I think it's a fun club for students to come and learn a skill that's probably not taught in the classroom right now, and to grow friendships with other students from different schools in our community. The unknown of not knowing who the person is kind of fun for students, too!" 
When asked what they were most excited about in the Pen Pal Club, students agreed that forming bonds with other Northfield students was at the top of the list.
"I'm excited to meet friends, especially friends from Spring Creek. And I hope they are nice," said Ajack, a Bridgewater student.
Another Bridgewater student, Janiyah, said, "I want to have a best pal. They can be my friend, and we can talk a lot, talk about what we look like, and then if we notice each other, we can play, sing, everything."
The Pen Pal Club members will meet their new friends in person at the end of the year when they gather at a park between the two schools for a party. 
Bridgewater, Spring Creek, and Greenvale Park Community schools meet Monday-Thursday from 3:15-4:45 p.m., and the programming is free for students to attend. Schools form clubs throughout the year and are always looking for volunteers to share their unique interests and skills with students. To learn more about being a Community School volunteer, contact Megan Zwolenski at mzwolenski@northfieldschools.org for Spring Creek, Erin Bailey at ebailey@northfieldschools.org for Bridgewater, or Michelle Oaxaca at moaxaca@northfieldschools.org for Greenvale Park.