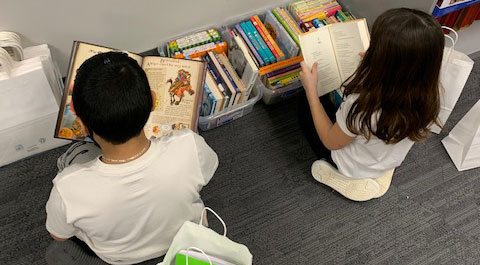 Teachers Pursue Training in Science of Reading
April 20, 2022
More than 50 teachers and staff members from the Northfield Public Schools have signed up for an intensive training that district officials describe as a "game-changer" for teaching early learners how to read.
The Minnesota LETRS Science of Reading Professional Learning Courses provide 144 hours of instruction in how to teach reading skills based on brain science. The Minnesota Department of Education is offering the optional training to K-5 classroom teachers, administrators, elementary special education teachers, and other elementary reading specialists and coaches from across the state at no cost to the participants, through funding appropriated by the state legislature. Because teachers and staff complete the training outside of school hours, the Northfield district is paying them for their time.
"We think this will make a huge impact, and that impact will be immediate in terms of student learning," said Hope Langston, director of instructional services for Northfield Public Schools.
Langston said the science behind this method of teaching reading is not new, but the approach is different from what many teachers in the district learned when they were in college.
So far, three administrators, two district-level staff members, 20 classroom teachers, eight special education teachers, seven interventionists, and nine Northfield Community Education Center staff members have signed up for the training. However, because teachers sign up on their own through the state, and not through the district, Langston said there could be even more who are taking advantage of the free training opportunity.
"We have representation from each elementary school. So when we think about the knowledge base that's being developed at each building, it's incredible," she said. "It's a significant commitment because it's done outside the school day. That is another reason why I'm thrilled with the number of people who have committed to it."
Alisha Clarey, a preK-12 systems and instructional coach with the Northfield district, started the training in December, before the state made it widely available. Because she's already completed the book portion of the program and is more than halfway through the online portion, she's serving as a resource for others in the district.
The Minnesota Department of Education expects participants to complete the program by June 2023, although that deadline may be extended because of the staggered start to the training, which teachers complete at their own pace.
Clarey said she's already been able to apply what she's learned so far to the classroom, with positive results.
"We have a strong core curriculum currently in place in Northfield, but like any curriculum, it isn't reaching all of our learners," she said. "LETRS gives teachers the scientific background knowledge necessary to construct optimal learning situations for all learners."
Langston said the district's goal is for every child to learn to read, and to increase the number of students reading at grade level from two-thirds to 90 percent.
"It's not acceptable right now that one-third of our kids are unable to read at grade level," she said. "The research is clear that 90 percent of our students can learn to read at grade level if they are provided with systematic explicit instruction, with enough repetition for each individual, and we're not there. Teachers know and feel that frustration, that despite all the hard work they are putting in every day, they weren't seeing the results that they wanted to. This information is going to set them on that path to reach every reader."
Clarey added that the LETRS training will also provide long-term benefits throughout the district.
"It's going to affect all the grades above K-5 as well, because it's going to bring kids into those grade levels ready to learn that grade-level material," she said