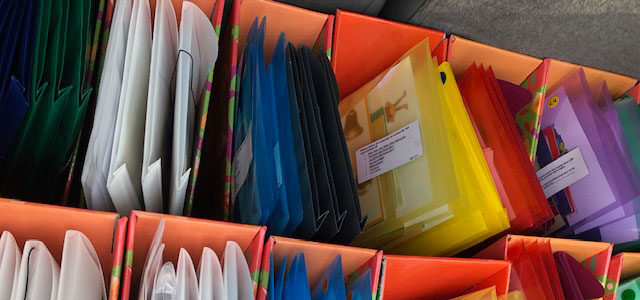 Family Mastery Kits Provide Extra Reading 'Scoop'
April 20, 2022
All first- and second-grade students in the Northfield Public Schools now have access to reading kits that help them decode words, practice fluency, and master other literacy skills they need to become confident readers.
The Collaborative Classroom Curriculum family mastery kits were piloted two years ago with first-graders at Bridgewater Elementary School, using funding through the Move 5 Kids initiative. The pilot was repeated last year with first-graders at Spring Creek and supported through building funds. Based on the positive pilot results, the Northfield school district decided this year to provide the kits to all the first- and second-grade teachers at Bridgewater, Spring Creek and Greenvale Park.
Northfield Promise Coordinator Laura Turek said students who don't pass a unit mastery test receive a kit containing specific books, instead of the regular books in a bag, along with a letter of explanation to the parents or guardians. The students work with an adult (a parent or an aide) on that particular literacy skill for two weeks, outside of class time, before retaking the test.
"This is considered an extra scoop that targets specific reading skills for students who are not quite mastering at the same pace as the rest of the class," Turek said.
Hope Langston, director of instructional services for Northfield Public Schools, said the kits have helped families better understand why their children aren't reading at grade level, and what they can do to help.
According to an informal spring survey of the district's first- and second-grade teachers, 76 percent of the respondents had sent a kit home with students when they did not pass the mastery test. Of those teachers, 62.5 percent reported that their students went on to pass the mastery test after using the kit, and 37.5 percent reported that some students passed while others did not.
Langston said the district would have preferred to launch the kits in a non-pandemic year, when teachers had more time to get comfortable with using them. But they didn't want to wait until next fall, knowing that some students needed the boost this year.
"If we have any teacher using it, it's a win," she said. "We plan on amplifying the wins once we've had it in place, and that should help other teachers see that it's easy to use."
Pam Charlton said she has used the kits successfully with her first-grade students at Bridgewater.
"One hundred percent of my kids passed the mastery tests the second time after using them. The parents liked them and took it pretty seriously," Charlton said.
Lindsey Downs, a literacy support teacher at Spring Creek, said she has had classroom volunteers use the kits with students at school.
"If a student just needed practice with fluency or decoding words, I'd have them review the sounds, words and re-read books from the packets. That was also very effective," she said.