Transformed by Education – A StriveTogether Scholar profile
July 29, 2021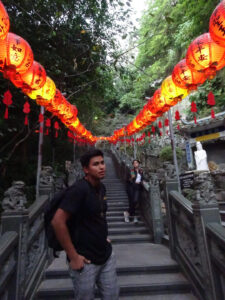 As a kid growing up in Northfield, Armando Valdez was fascinated by Transformers toys – plastic, human-like robots that could turn into animals or vehicles.
He's still interested in robots, but at age 20, he's considering turning that interest into a career. After a year of earning college credits at St. Paul College – a public community college that's part of the Minnesota State Colleges and Universities System – the Northfield High School alumnus is transferring this fall to the University of Minnesota Morris to pursue pre-engineering studies.
"I'd like to work for a company that develops robotic arms and legs for people who have lost their limbs," he said.
Valdez's parents moved to Northfield from California when he was 2 years old, seeking a safer and less expensive place to raise their children. Spanish was his first language, and when he enrolled at Sibley (now Spring Creek) Elementary School, he was placed in an English Language Learners class to improve his reading and writing skills.
"The teachers at Sibley really cared about me," he said. "Now that I'm older, I see that they were really helping me as a kid; they helped me catch up. I'm grateful that Sibley provided clubs and programs like that for students."
Valdez got involved in the TORCH program in middle school. He would visit the TORCH room after school to get homework help, and the staff helped him find scholarships to attend summer camps. When he moved on to high school, TORCH staff helped him find tutors for math and chemistry, reviewed his English papers, and offered to set up college tours and assist with finding scholarships.
"TORCH has been there for me. I don't think I'd be doing this well without TORCH," he said. "I'm thankful that the Northfield schools gave a hand to students like me; they believe we can reach higher academic levels."
Valdez graduated from Northfield High School in 2019 and spent a year in Taiwan as a Rotary Exchange Student. When he returned, he enrolled at St. Paul College and ended up taking his classes online because of the pandemic. As a StriveTogether Scholar, he received assistance through the Northfield Community College Collaborative to pay for tuition and related expenses. Youthprise paid for the cost of his driver's education and covers his textbook expenses. As he continues his college education and decides on a career pathway, the Youthprise funding will help him pay for needed equipment, certifications, and trainings.
Once Valdez completes his four-year undergraduate degree, he's thinking about pursuing a master's degree, like his role model, Rey Andrade-Flores, a Northfield High School alumnus and University of St. Thomas graduate who works for Medtronic as a manufacturing engineer.
"He's one of my biggest inspirations," Valdez said. "His family was also from Mexico, and right now he's doing very well for himself. I always inspire to that – hopefully one day I can reach his level."