Law Enforcement Program Coming to Northfield
July 29, 2021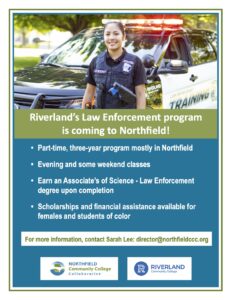 A new collaboration between Riverland Community College, the Northfield Community College Collaborative (NCCC), and the Northfield Police Department will make it more convenient for Northfield-area residents to earn an associate's of science degree in law enforcement without (mostly) leaving town.
The program starts this fall and is open to anyone with a high school diploma or equivalent. 
Students who enroll in the part-time program will take in-person evening and weekend classes from Riverland faculty at the NCCC, which is located on the second floor of the Northfield Community Resource Center, 1651 Jefferson Parkway. Toward the end of the three-year program, students may need to take some training at the Riverland campus in Austin or in Owatonna.
"The program is open to anybody – all ages, with any level of education, whether you're 35 or you just graduated from high school," said NCCC Director Sarah Lee. "There are no income, age or gender requirements. We'll help everybody access financial aid and order textbooks, and there are additional scholarships for people of color and females."
One goal of the collaboration is to increase the diversity of local law enforcement personnel so it is more reflective of the community's demographics. Scholarships and financial assistance are available for women and students of color thanks to generous support from WINGS (Women in Northfield Giving Support). 
Northfield Police Chief Mark Elliott said the Northfield Police Department is excited about the possibilities the partnership holds. 
"As with all departments, we want our police employees to be representative of the community they serve. What better way to accomplish this than to have the opportunity to attend school for law enforcement right here in our community," he said. "With the NCCC already well-embedded in serving first-generation college students and students of color, the NCCC will help us reach our goal of greater diversity among our officers."
Through the partnership with the Northfield Police Department, students in the program who join the local police reserves may receive a stipend for what has traditionally been a volunteer job. "This would allow our students to get experience and get paid," Lee said. "Unpaid internships are out of reach for many students."
The NCCC will host an open house for the new program on Thursday, Aug. 5, from 5-7 p.m. Enter the Community Action Center's door 17 and go up the stairs on the right. A Riverland cruiser will be on display in the parking lot, and a representative from the Northfield Police Department will be present. Prospective students are invited to check out the NCCC classrooms and student lounge and ask questions.
"We hope to draw from the surrounding area, too, like Randolph and Farmington, for students who want to commute here instead of to the Twin Cities," Lee said.
For more information about the law enforcement program or about the NCCC, contact Lee at 507-581-3581, director@northfieldccc.org.