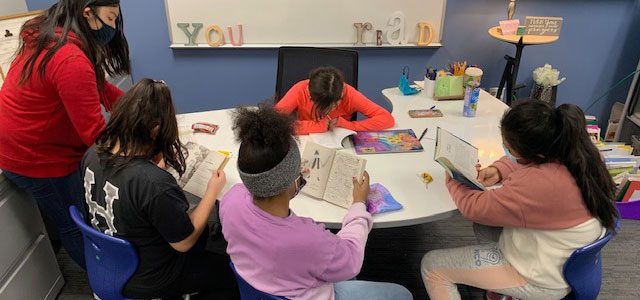 Northfield Named a Bright Spot for COVID Response
May 20, 2021
The Campaign for Grade-Level Reading (CLGR) has named Northfield a 2021 Bright Spot community for its responses to the COVID crisis last year. Northfield was one of 54 communities across the country, and the only one in Minnesota, to receive this recognition.
CGLR highlighted communities that developed exemplary or innovative responses to the COVID crisis between May and December 2020, including new or adaptive roles, programs, organizational relationships, policies, or resources. These Bright Spot communities were recognized for crafting solutions that seemed especially effective and deserving of being sustained post-COVID.
In Northfield, four efforts – all initiatives supported by Northfield Promise – were specifically called out: Early Childhood Navigators, Family Engagement Navigators, 100% Connected, and "Move 5 Kids."
Early Childhood Navigators: This program uses bilingual staff to help families with young children access preschool, other early childhood opportunities, and community resources.
Family Engagement Navigators: Through this initiative, bilingual staff work with middle school and elementary students and their caregivers to improve attendance and engagement with distance learning.
Internet access and laptops: Through 100% Connected, hotspots and broadband internet were provided for free to more than 400 students whose families are low-income or who faced economic hardship as a result of the pandemic.
"Move 5 Kids" continuous improvement effort: This initiative supports K-5 teachers in developing innovative approaches with the aim of moving children toward successful reading in each class by spring.
"We appreciate the national recognition as a Bright Spot community and how it allows us to spread what has been working with other communities," said Laura Turek, coordinator of the Northfield Promise Reading Team. "This has been a challenging time, yet our collaborative efforts and resources allowed us to develop and implement tactics that support children with the tools they need to be successful in school."
CGLR focuses on promoting early school success as an important building block of more hopeful futures for children in economically challenged families and communities. In Northfield, the local GLR campaign is supported by Northfield Promise, the Northfield Public Schools, Healthy Community Initiative (HCI), Growing Up Healthy, the Northfield Public Library, and more than 12 other community partners.
About the Campaign for Grade-Level Reading
Launched in 2010, the Campaign for Grade-Level Reading is a collaborative effort of funders, nonprofit partners, business leaders, government agencies, states, and communities across the nation. It has grown to include more than 300 communities, representing 45 states, the District of Columbia, Puerto Rico, the U.S. Virgin Islands, and two provinces in Canada — with 5,000+ local organizations and 510 state and local funders (including 200+ United Ways). To learn more, visit gradelevelreading.net and follow the movement on Twitter @readingby3rd.