Little Free Libraries
October 21, 2020
Members of Northfield's Rotary Club planned to spend time over the summer coordinating outdoor Library Book Bike activities throughout Northfield. When COVID-19 shut down those plans, Rotarians directed their efforts toward another literacy-related activity: building and stocking Little Free Libraries.
They built and installed eight new little libraries in low-income neighborhoods throughout Northfield.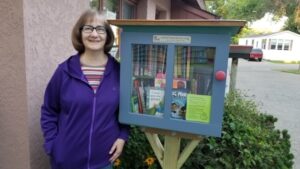 "We are targeting those areas because of the gap in reading scores between higher-income students and lower-income students. We know access to books is a major piece of literacy skill development. Literacy-rich environments build strong readers," said Healthy Community Initiative (HCI) Coordinator Laura Turek.
The Rotarians also took inventory of all 47 Little Free Libraries throughout town and are restocking them monthly to ensure that they include books for children and youth.
"We felt it was important to provide children's reading material while the schools and library were closed," said Laurie Williams, a Rotarian who also serves on the Northfield Promise Reading Team. "We want to make sure all children have access to quality, appropriate books."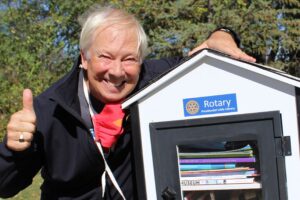 Little Free Library is a nonprofit organization that fosters neighborhood book exchanges throughout the world. It seeks to inspire a love of reading, build community, and spark creativity. It operates under the "take a book, return a book" idea: people can pick up a free book or leave a book for others to enjoy. To learn more, visit littlefreelibrary.org.
Three of the new local Little Free Libraries were built by the Cannon Valley Makers. Others were constructed by a grandfather and grandson, a local Girl Scout Troop, a retired library employee, and a middle school industrial arts class.
Education is one of Rotary International's seven areas of focus, and the Northfield Rotary Club has been active in local literacy programs for many years. Members participate on the Northfield Promise Reading Action Team by volunteering as breakfast buddy readers at the elementary schools, providing book donation boxes and community bookshelves, and collecting new and donated books.
The Rotary Club is accepting donations of children's and youth books for restocking the Little Free Libraries. Collection bins are located at the public elementary schools, the Northfield Area Family YMCA, and the Northfield Community Resource Center. For more information, contact Laura Turek at laura@northfieldhci.org.