Early Learning Specialists provide resources for families through ParentChild+
June 1, 2020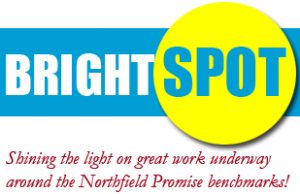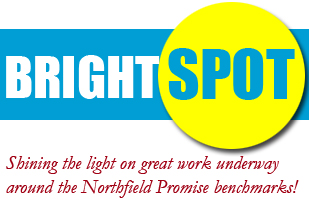 Thiago's eyes are wide and bright. He sits on the living room floor with his mother, Elizabeth Flores, on a gray March day and examines the colorful blocks and plastic miniature zoo animals spread out in front of him. But the 20-month-old boy doesn't sit still for long. As his older siblings work on homework nearby in the kitchen, he walks over to a stack of children's books and selects one, then returns to his mother's lap and turns the pages. They examine the book together, keeping up a conversation in Spanish. Elizabeth reinforces the names of colors and animals that appear on the pages. Thiago repeats the words and makes the animal sounds with enthusiasm, before returning to the stack for a new book.
Elizabeth and her son are among the 16 Rice County families participating in a free home visiting program called ParentChild+. The evidence-based early literacy program, funded by Jewish Family and Children's Service of Minneapolis, promotes creative ways of play, enhances parenting skills, and helps prepare children for preschool. Twice a week, a ParentChild+ Early Learning Specialist visits the home, bringing new toys and books and offering learning activities for the parents and children.
"He likes to play with everything she brings. Even if she's reading a book, he's really into it," Elizabeth said of her son. "The kinds of books she brings are colorful, and the illustrations keep him focused. I think it's a really good program."
Laura Baltazar is the early learning specialist who's worked with the family since January. She said Thiago has become more comfortable since she started visiting and repeats more words than he did in the beginning.
"When I go over, he enjoys story time. He points at things in the book. He also likes to play with an alphabet magnet toy. So we repeat the alphabet every time we meet. He is such a wonderful little kid," Laura said.
Even though Elizabeth is an experienced parent—Thiago is the youngest of her four children—Elizabeth says the half-hour visits from Laura have been helpful because each child learns differently. The early learning specialists can offer advice tailored to a child's needs, and be a resource for the parent about other programs and resources in the community, like early childhood screening and preschool registration.
Jewish Family and Children's Service has operated the ParentChild+ program in Minneapolis, suburban Hennepin County and rural Cass County for several years and received funding to expand to Rice County in the fall of 2019. Six families from Northfield and ten from Faribault have participated in the initial year of the program, and additional families will be able to join in fall 2020.
Laura is one of four early learning specialists working with families in Northfield and Faribault. She said she enjoys seeing the kids learn and watching the parents grow alongside their children.
"The parents are the main teachers and supporters to their child. It is so amazing to connect with families and learn from them also. All the families that I work with make my job very enjoyable. I couldn't ask for a better career," she said.
The ParentChild+ program is supported in Rice County by Growing Up Healthy and the Northfield Healthy Community Initiative. For more information, contact laurabaltazar@northfieldhci.org.