Northfield Community College Collaborative helping local students on their postsecondary journeys
September 11, 2019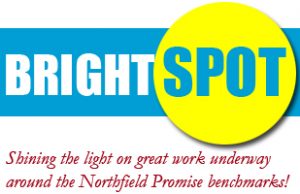 Exciting growth and outcomes achieved in project's second year
Forty-five young adults earned 486 college credits last year through the Northfield Community College Collaborative (a Northfield Promise flagship initiative). Located on Division Street in downtown Northfield, the NCCC partners with Riverland Community College to provide in-person courses, while also support students in taking online classes. The NCCC offers study space, tutoring, academic advising, wireless internet, free printing, and access to emergency funds to help overcome obstacles that may arise for students.
Completing just its second full year, the NCCC is already seeing amazing results. Highlights of the students' accomplishments during 2018-19 include: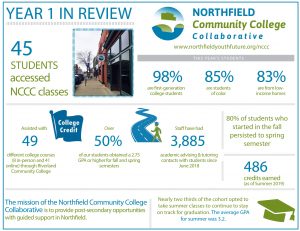 To learn more about the Northfield Community College Collaborative, visit www.northfieldyouthfuture.org/nccc or email alumni@northfieldhci.org.