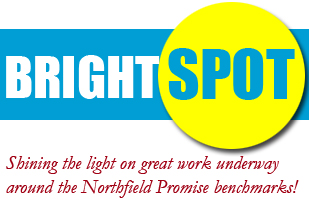 Education Fellow Pilot
March 1, 2019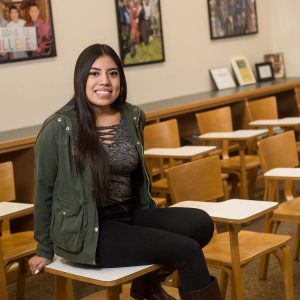 Yamile Hernandez wants to help children grow and develop. With the help of the Northfield Community College Collaborative (NCCC) and its new Education Fellows program, she's on her way.
After she graduated from Northfield High School in 2018, the Education Fellows program helped Yamile secure a full-time position as a Minnesota Reading Corps tutor at Greenvale Park Elementary School. She works one-on-one with students in grades K-3 at the same school she attended.
"[Reading Corps] has taught me a lot of responsibility, because it's a Monday-through-Friday job," says Yamile. "I have to keep up with their scores and their charts, and I have meetings every month to talk about each student, and what we could do to help them grow."
After school, it's Yamile's turn to be the student. The Education Fellows program helps her with a laptop, books, materials, and tuition for Riverland Community College courses through the NCCC. She completed biology and French courses online this fall through Riverland, and took a sociology course in-person at the NCCC's downtown Division Street location. This semester, she's taking a full-time courseload on top of Reading Corps.
Yamile also appreciates the educational support that she receives through the NCCC and the Education Fellows project.
"Personally, it's kind of hard to find my way through [the college system], because my parents don't know about how things run, because they weren't from here," Yamile explains. "So it's a good support to go to them for any questions." NCCC staff are available to help Yamile figure out how to set up college visits, fill out applications, seek financial aid, and find tutors.
Her goal is to take the credits and wisdom she's built up this year and head to a four-year college next fall.
The Education Fellows program is striving to diversify the local education workforce by supporting postsecondary education for local students of color interested in careers in education. The program is made possible by a Pathways to Prosperity grant from the Minnesota Department of Employment and Economic Development and a multitude of local partnerships, including Northfield Public Schools, Minnesota Reading Corps, Riverland Community College, Youthprise (through a federal Opportunity Reboot grant), and Tackling Obstacles & Raising College Hopes (TORCH). Eight fellows earned a cumulative 54 college credits this fall (the program's first semester) with an average GPA of 3.14.
The NCCC receives financial assistance from the Minnesota Office of Higher Education, Women In Northfield Giving Support (WINGS), and St. John's Lutheran Church, as well as other local donors.