Navigators Connect Families with Young Children to Preschool
January 8, 2019
One of the primary goals of Northfield Promise is to make sure that all children are ready for kindergarten.
In 2017, 66% of Northfield children from low-income households were ready for kindergarten in reading, compared to 90% of children from higher-income households. A group of local early childhood professionals determined two strategies to address this gap:
increase the number of children who attend high-quality early learning programs; and
increase the number of children who complete early childhood screening at age 3.5
Families whose first language is not English and those from low-income households report finding it especially difficult to access high-quality early childhood experiences, such as preschool.
To reach those most in need, Northfield Promise has partnered with a number of local family-serving organizations to hire two bilingual Early Childhood Navigators (utilizing funding from the StriveTogether Accelerator Fund). Partner organizations help identify families with young children who are not yet enrolled in preschool, haven't been screened, or need connection to additional services, and then refer those families to the Navigators.
The Navigators meet families in their homes or other community meeting spots and assist them with finding a preschool or childcare program that best fits their needs. Navigators help parents with registration paperwork and scholarship applications. They also help families connect with early childhood screening, which is required by the State of Minnesota. Through partnering with local agencies, Navigators are able to connect families with other community resources they may need, including food, housing, employment, health care and more.
Meanwhile, an Advisory Board of leaders of the local education, health care, early childhood, public health, and social services arenas meet monthly. The group meets with the Navigators, reviews data, and then strives to make systems changes in their own organizations/entities to better serve families with young children (based on identified obstacles).
Research shows that there is a connection between high-quality early childhood education and future academic success. The Navigators are eager to help any family explore early childhood programming options and overcome barriers they may be facing.
With this pilot just launching in July 2018, the results of the first 6 months have been nothing short of exciting: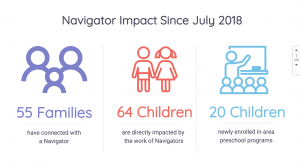 ---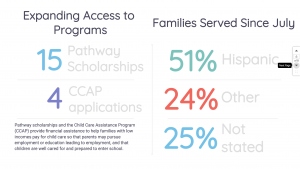 ---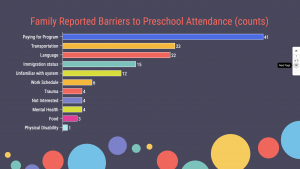 To connect with the Navigators or to make a referral, call Kayla (507.321.0621) or Liliana (507.321.3734). Or, complete an online referral form HERE: