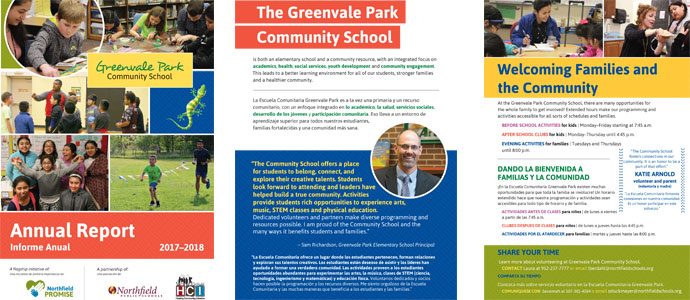 Greenvale Park Community School Annual Report
January 8, 2019
Celebrating the successes of its 4th year, the Greenvale Community School Annual Report for 2017-18 is now available online. A total of 861 youth from elementary school through high school participated in programming last school year. In addition, 54 community partners and 462 volunteers contributed to the project's success.
Sam Richardson, Greenvale Park's Principal, is one of its biggest fans. "The Community School offers a place for students to belong, connect, and explore their creative talents," Richardson said. "I am proud of the Community School and the many ways it benefits students and families."
Partnerships and community volunteers help lead the school to its many successes. Katie Arnold, parent and volunteer commented, "The Community School fosters connections in our community. It is an honor to be a part of that as a parent and volunteer."
Click here to see the full 2017-18 Greenvale Park Community School Annual Report.