Bright Spot: Student Data Summit
October 8, 2018
As Carrie Duba, Northfield Public Schools' School Psychologist, researched the measuring of social emotional learning in older students, she came upon a program implemented by the Washoe County School District in Nevada. The large district wanted its students to understand that the data collected about them was reviewed, shared and used to make improvements with and for the students' benefit. Duba enthusiastically shared the ideas she learned with Hope Langston, Director of Assessment Services for Northfield Public Schools. On September 23, they worked with Northfield Promise to host the first Youth Data Summit.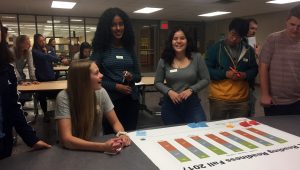 Although there was uncertainty about how students would respond, they did so enthusiastically. Forty-six students looked at the data, asked questions, discussed the information in small groups and offered reflections on what they were learning. Youth leaders from various school groups looked at academic data, information from the Minnesota Student Survey and figures around school attendance.
Students had a variety of reactions to the data they saw. Some were surprised and others saw what they expected to see. But, according to Duba, they agreed about being "excited to be asked into the process and honored to be part of it."
Just like in other communities, data is regularly collected and acted on by the Northfield district. The Summit was a first step of inviting student voices into what the data means and how it shapes what their schools do. But students were interested in more than just looking at the information. Langston reported, "They were really interested in taking action and overwhelmingly, they were willing to come back to a second gathering." Although no date has been set, students will play a prominent role in the planning, leadership and action steps of the Youth Data Summit, Part 2.
For a summary of the day and the students' key insights, click here.