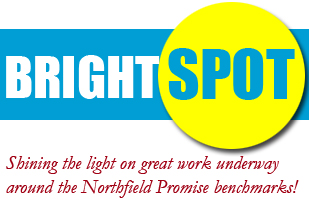 Move 5 Kids
September 5, 2018
When each child can read at grade level by the end of 3rd grade, they have gained an essential component of ongoing academic success. This reading goal is among the academic goals in Northfield Promise's efforts. It is also tied to a recent award from the StriveTogether Accelerator Fund.  In 2017, 57% of Northfield's 3rd grade students achieved proficiency on the Minnesota Comprehensive Assessments (MCA). The goal of Move 5 Kids is to have 5 kids from each class who are at risk of not being proficient in the fall move to proficiency by spring. The collective impact of this targeted approach can make a real impact on a community's results.
The results of this past spring's MCA's were released to the public on August 30 and shared by Northfield Public Schools' Director of Assessment Services, Hope Langston. For 3rd grade classes across the district, Langston reported an increase of 6.8% in the number of students who achieved proficiency. In its first year, Move 5 Kids exceeded the goal of a 3% increase due to the hard work of teachers, staff, students and families.
Sibley School 3rd grade teacher, Rich Guiggisberg was enthusiastic about the difference the program is making with his students. Reflecting on last year, he said, "Because of Move 5, we hosted The Reading Olympics and having 100 third grade students march so proudly down the hallways chanting 'I Love to Read!' during our closing ceremonies was something I'll always remember."
Literacy Coaches in all three elementary buildings were instrumental in supporting the program. Upon the release of last spring's data, Inger Hanson, Coach at Bridgewater, was excited about what had been accomplished by the team.  Hanson commented,  "Third Grade teachers did an outstanding job coming together with a laser-like focus on individual students, their needs, and how best to meet those needs. The Move 5 initiative brought together all three elementary schools' teams and support staff to share ideas and resources. This collaborative effort yielded positive results in helping to advance all third grade children. Way to go, Northfield!"
Northfield and neighboring Red Wing were recently awarded one of only 5 national StriveTogether Accelerator Fund projects. As members of the StriveTogether Network, both communities work extensively to improve outcomes for youth along a "cradle-to-career" continuum. According to StriveTogether, "the Accelerator Fund is designed to help communities reach education goals faster while building the strength of partnerships to accelerate their progress over the long term."
Funds from the Accelerator Fund were made available to Northfield's 3rd grade teachers last year to help provide resources and to support innovative targeted strategies to help these kids "on the bubble" achieve success.