National Designation for Local Literacy Efforts
September 5, 2018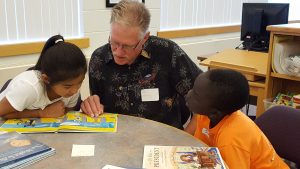 Summer brought good news to Northfield Promise's reading improvement efforts when Northfield became the first Minnesota community to join the national Campaign for Grade Level Reading. This project connects the other literacy programs aimed at helping children become more skilled readers, an essential skill in achieving the benchmarks of Northfield Promise's cradle-to-career goals.
Launched in 2010, the Campaign for Grade-Level Reading is a collaborative effort of funders, nonprofit partners, business leaders, government agencies, states and communities to ensure that many more children from low-income families succeed in school and graduate prepared for college, a career and active citizenship. Since its launch, the GLR Campaign has grown to include more than 380 communities, with 3,900 local organizations and 450 state and local funders.
The Northfield Promise Reading Team led the community's application to the GLR Campaign.  Noting the nationally recognized approach that the GLR Campaign adopts, the Reading Team has organized its work based on the GLR framework. According to Connie Nelson and Fritz Bogott, co-chairs of Northfield Promise Reading Team, "The team examines local literacy needs and engages community partners to help children be successful."
The GLR Campaign bases its programming on research into reading proficiency. Studies show that students who are proficient in reading by the end of third grade are better able to master complex subject matter as they move to fourth grade and beyond. In other words, being on grade level with reading by the end of third grade is a critical milestone. Although schools bear much responsibility for achieving this goal with all students, the community has an important part to play. By removing barriers, expanding opportunities and assisting parents in their role, engaged communities like Northfield are needed to help ensure student success.