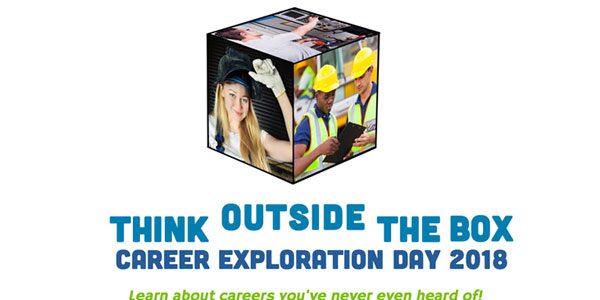 Career Exploration Day – A Great Success!
September 5, 2018
The theme of Career Day 2018, Think Outside the Box, offered an opportunity for Northfield students to explore career possibilities, some of which they'd never previously heard about. Held of May 15, the event attracted 63 professionals, representing 42 business and post-secondary partners. Student attendance was robust with 645 middle school students and 340 high school students participating. For Superintendent Matt Hillmann, "The highlight is seeing kids asking questions of people who love their jobs and hearing the answers from them. We have people who are passionate about what they do in life and willing to share that with students."
During the event, students had opportunities to talk with local individuals representing a wide variety of career opportunities. As part of Northfield Promise's cradle-to-career scope, the day allows students to explore an assortment of vocations.
Students had a chance for hands-on time with big equipment such as snowplows, tractors, race cars, semi-trucks, district school buses and more! Students interacted with local role models in Business and Technical Trade fields. Representatives from area businesses and community colleges provided an overview of the pathway from high school to career in Arts and Communication; Business and Entrepreneurship; Engineering and Manufacturing; Health Sciences; Human Services; and Science & Technology.
The success of Career Day, like other Northfield Promise initiatives, depends on the many diverse community partners who join forces with Northfield Public Schools and the Northfield Healthy Community Initiative. Together, these partners support chances for young people to explore possibilities for meaningful lifelong work. FORCE America – led by CEO and Northfield Promise Council of Champions member John Stenz – played the key leadership role in organizing this incredible event!