Hope Langston Selected for National Data Fellowship
January 9, 2017
Named as one of 17 Tableau Fellows nationwide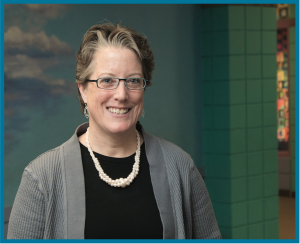 District Assessment Coordinator and Northfield Promise Data Team Co-Chair Hope Langston was selected last month for the prestigious Tableau Fellowship by StriveTogether.
StriveTogether selected Langston and 16 other individuals for this data analytics fellowship program with the Tableau Foundation. The fellowship will help the Fellows and their communities more effectively view, analyze and share local education data to improve results for all students.
"To improve educational outcomes at scale, we need to empower community members and relevant partners with the data they need to make more informed decisions," StriveTogether Managing Director Jeff Edmondson said. "Through our continued partnership with Tableau, we are helping local partnerships across the country find new and creative ways to communicate and understand data that will help them focus their time, talent and treasure to address the most pressing needs and spread the most impactful practices."
The 17 Fellows will spend the next eight months using data to drive action and communicate better with their community through easy-to-understand visualization. They also will focus on how their partners can make more informed decisions and on the capacity needed to make data even more useful.
Tableau, a global leader in visual analytics, will support the fellowship program with software, funding and training. Participants will work with Tableau experts from the field and connect with each other through an online portal space and discussion forum. Business intelligence consulting firm Interworks also will provide pro bono training to participants.
"Throughout the first year of the partnership, it was impressive to see how each of the fellows used data to improve conversations about student achievement in their areas," said Neal Myrick, Tableau's director of Social Impact and head of the Tableau Foundation. "As we go into the second cohort, I'm excited to see how we can build on those best practices and support a diverse new set of communities around the country."