Greenvale Park Community School – Year 1 = Success!
November 9, 2015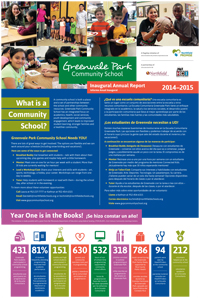 Community School Annual Report Released
The Greenvale Park Community School recently released its first Report to the Community, highlighting the results of the inaugural year of the effort. Available in English and Spanish, the report was mailed to all Greenvale Park families, as well as all homes within a mile of the school.
Highlights from the first year include:
431 Greenvale Park students, 151 middle & high school students, and over 630 parents & community members participated in community school programming
532 hours for programming were offered
94 patients were seen by HealthFinders at the community school
212 volunteers helped at the community school
To access the report, click HERE.
As the Greenvale Park Community School Year 2 efforts are now in full swing, volunteers are still needed! Please consider signing up to be a Breakfast Buddy, to lead an afterschool or evening workshop, or to be a mentor. For more information, click HERE.
The Greenvale Park Community School is a Northfield Promise flagship initiative. Funding for the Greenvale Park Community School has been provided by Women In Northfield Giving Support (WINGS), local donors, and a grant from the Minnesota Department of Education (using federal funding, CFDA 84.287c, 21st Century Community Learning Centers).