Ready for K Parents
October 23, 2015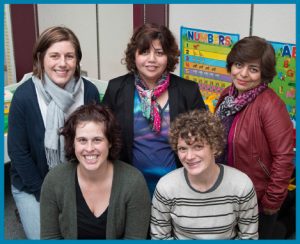 There's real diversity to the Ready for K team – from stay-at-home moms to school district, public health, pediatrics, and library staff, Latinos and whites. Together we are tasked with determining what it takes to be ready for kindergarten – socially, academically, physically. We're figuring out what "ready" means and what resources there are for people. We're also thinking about how to reach people who aren't involved. Who are we missing?
Having narrowed down abstractly what we want to do, we're on the cusp of putting it in concrete steps. We have all these big goals; but we wonder, how will we roll it out? It's exciting, and a little intimidating.
These kids are going to rule the world someday. They need the best support and opportunities possible. One of the most shocking things is that some kids enter kindergarten and don't know which way to open a book. If there's a way to overcome that, Northfield needs to do it.
There's a great deal of work done before kindergarten to gather data and screen kids. The amount and variety of data is mind-boggling. There's so much that the teachers have to learn and sort through. We're excited to tackle this challenge.
It's surprising that people get the sheet that says "Take your child to kindergarten screening" and just don't do it. It is our job to make sure parents are informed and equipped to help their children be ready for kindergarten.
As other action teams get going, we would encourage people that even if they don't think they have something to contribute, to give it a shot. Sometimes the best thing we can bring to the table is to know some folks who can bring something to the table, too.
Northfield Promise in three words?
EFFICIENT. COLLEGIAL. DEDICATED.