My Northfield Promise – Michael O'Keefe
November 2, 2017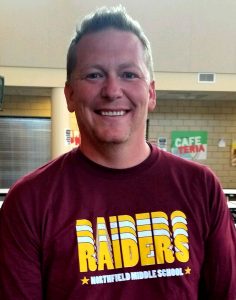 I was introduced to Northfield Promise when I first arrived in Northfield, as I was apprised of our district and building goals. As I learned more about the work being done to support our educational initiatives throughout all grade levels, I jumped at the opportunity to join the Career and College Readiness action team.
I am excited to be a part of Northfield Promise because of the time and energy investment they have committed to the Northfield Public Schools. I quickly found that working with the Career & College Readiness group was a great opportunity to vertical team with the high school. We are working together to create opportunities for students in all post-graduation tracks.
My personal belief is that the schools are critical in helping students discover what it is they want to do with their life. We need to embrace ALL hopes and aspirations, and provide insight for students into post-graduation options. At Northfield Middle School, we want to make sure we offer a wide variety of courses, which will allow students to explore their various interests. My work on the Career & College Readiness team allows for feedback on how we can improve our work at Northfield Middle School; it's interrelated.
As a member of this action team, I have the opportunity to meet a plethora of community members who share the same passion for helping students plan for the next stage of life. I greatly appreciate the opportunity to work with staff at the High School, as well as other Northfield Promise members; every time we connect with others in the community, positive things happen.
Our work will have an impact on preparing students to be significant contributing members of our society. Northfield is an amazing place to grow up, and we want our graduates to represent Northfield proudly, both in higher education and in their employment opportunities.
Northfield Promise in three words?
INSPIRING. DEDICATED. SIGNIFICANT.