My Northfield Promise – Barb Farmer
September 13, 2016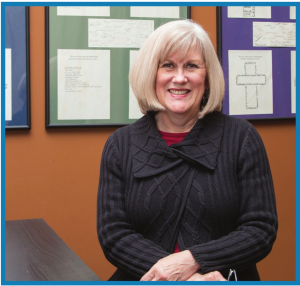 I am a part of the Northfield Promise Steering Committee and the Middle School/High School Connectedness action team. I am also a past board member at HCI, which is how I had my first introduction to this effort.
In light of our situation today, as schools face funding cuts and challenges, and families also face many challenges, Northfield Promise sounded promising and exciting to me. I wanted to be a part of that. It grabbed me.
I like that Northfield Promise addresses the whole person, not just the academic aspect. It all plays together. I got involved because it's important, it's collaborative, it's focused on our youth, it looks to the future, and it's hopeful. At a time when things can seem discouraging, we can say, "We can make a difference!"
Since Northfield Promise addresses the whole child, it recognizes that each one of those factors – physical, social, educational and emotional – needs to be in place for every child to thrive. That means there's an opportunity for practically everyone to find a way to connect with kids and be part of this effort.
There has been such an enthusiastic response to Northfield Promise from so many individuals and organizations. Based on the excitement it's generating, it's clear there are so many people in this community who are committed to providing every child the opportunity to learn, to grow, and most importantly to thrive. It's like everyone is joining hands, saying, "Yes, we can do this."
It has been good to see that many people who have no children, or whose children are already grown, who won't directly benefit from Northfield Promise – still are passionate about it. They wouldn't necessarily have skin in the game, but they really get it. That makes it feel much more doable.
I'm looking forward to seeing how it all plays out and what it accomplishes as the action teams are implemented and the effort broadens. Zach Pruitt brought this little spark of an idea to HCI. Now that spark is being fanned, and I look forward to seeing it burst into flames and grow – locally, countywide, statewide and even nationwide.
Northfield Promise in three words?
INCLUSIVE. COLLABORATIVE. INSPIRING.