My Northfield Promise – Ellen Iverson
November 23, 2015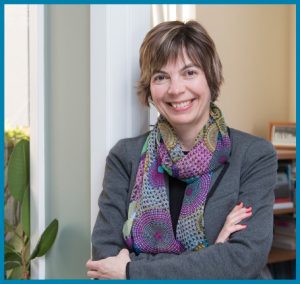 Two years ago I attended a Northfield Public SchoolsDistrict Educational Program Advisory Council (DEPAC) meeting where Zach Pruitt was presenting on collective impact. I was enthused by the information he shared about the Cincinnati Strive model and wanted to get involved. I joined the Data Team and then was recruited to join the Council of Champions.
The benchmarks that Northfield Promise has established are something that I can really get behind. I value the strength of the people who are involved with this initiative and its structure and guiding principles. This is a proven model and I think it will work well in Northfield.
The mission of Northfield Promise melds well with the work I do at Carleton – which is dealing with how to use data to inform social change in education. At Carleton we're using data to inform our undergraduate programs and for the school board my focus is on K-12 students. Northfield Promise looks at the entire picture, from cradle to career,and I like how we are being intentional about improving systems and making change happen.
The Data Team meets regularly to talk about data, which I think is really fun! I enjoy discussing the different ways we can use this data. It's great that we're not bound by any preset parameters the way schools are. So often in education, you have to use particular instruments for testing and measurement. With Northfield Promise we have the freedom to look at different ways to measure progress.
I've been surprised by how quickly people have become engaged with Northfield Promise. The Council of Champions represents a broad cross-section of stakeholders in the Northfield community, from law enforcement to business leaders to educators; it's been great to see how everyone has come together to maximize our collective impact.
I'm looking forward to seeing the action teams form and their work unfold. I think there are big opportunities for more of the community to get involved with the action teams that will be addressing social-emotional wellness and being more connected to the community during the early childhood years. The Greenvale Park Community School also provides a lot of opportunity for people to become engaged in the work we're doing with Northfield Promise.
Northfield Promise in three words?
COMMITTED. ASPIRING. ACTION-ORIENTED.