My Northfield Promise – Monte Nelson
September 6, 2015
My two daughters were raised here in Northfield, and now my grandchild is being raised here, so I've always been very invested and interested in our schools and our programming for youth – in what we can do to raise our kids as best as possible.

I was familiar with the start-up and implementation of Northfield Promise from being on the board at HCI, where I've been involved for years in various ways. Because th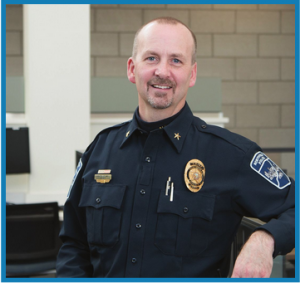 e Chief of Police position is part of Northfield Promise Council of Champions, when I became Chief, I stepped into that role on the Council.
It felt like a natural fit. I was the school resource officer in Northfield for four years. I coached sports. I worked as an investigator, and many parts of that are directly or indirectly involved with youth in town. So I've had opportunities to work with a lot of the different groups involved in Northfield Promise.
I take a keen interest in the pre-K part of Northfield Promise because kids learn so much at that stage, and there's a lot of work to be done there. It's a very enriching and important time in children's lives. We've seen that in police work for many years. We see young kids being impacted by everything from child exchanges in divorce situations, where sometimes we're asked to stand by, to police calls to the home. So it's nice to see that age being emphasized.
I came into it knowing most of the people involved in Northfield Promise and the Council of Champions, but I'm pleased at how quickly it's taken a foothold across a wide spectrum of groups. It's not just the schools; there's a broad base of support out there. There's been good turn-out and buy-in.
I look forward to the idea that over time, as we expand those benchmark measures, it's going to give us a different view of our community and help us direct our efforts a little better. Over a long period of time, it will be interesting to see trends and changes – hopefully, changes in a positive way.
If people are interested in getting involved, all they need to do is contact the people from Northfield Promise. Just about everyone in town who's interested could play a part – from financial support to mentoring to serving on an action team. It would be hard not to find some connection, if they're interested. People should find a way to get involved – especially parents. Anyone with kids should be paying attention to what Northfield Promise is and what's going on, because it will affect their children.
Northfield Promise in three words?
EXCITING. COMPREHENSIVE. VISIONARY.