My Northfield Promise – Connie Nelson
May 14, 2015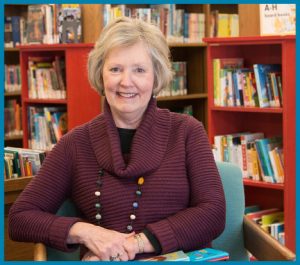 I first started teaching in Northfield in 1974 after graduating from St. Olaf College. Having been an elementary teacher or coach for 25 years in Northfield, I know that classroom teachers can't do this monumental task of educating all children without additional resources. It really does take a village to help with a lot of our kiddos.
As a member of the Reading Team, I'm focused on two of the benchmarks: Reading at grade level by the end of 3rd and 6th grade. We're also planning to broaden our literacy goals to impact children from birth to adolescence.
Literacy is a passion of mine. I also believe that all children can learn, they just need different levels of support at different times in their journey, and Northfield Promise fits with that. A common misperception in Northfield is that all of our kids are achieving at a high level because we have a segment of our population that is highly educated. In truth, the students needing support come from all backgrounds in our community.
I look forward to helping kids by helping parents, too. We assume parents know how to help their children become good readers, but some might need more guidance.
Because Northfield Promise is a community-wide effort, we want to branch out beyond school staff. There are now over 20 members on the Reading Team, including people from the library, the Hispanic community, the Senior Center and the school district.
Northfield has so many people who are extremely generous with their time, resources and talent. This is a great opportunity for people to be involved in some way that can make everyone a winner in the long run.
Northfield Promise in three words?
PASSIONATE. COMMITTED. COLLABORATIVE.